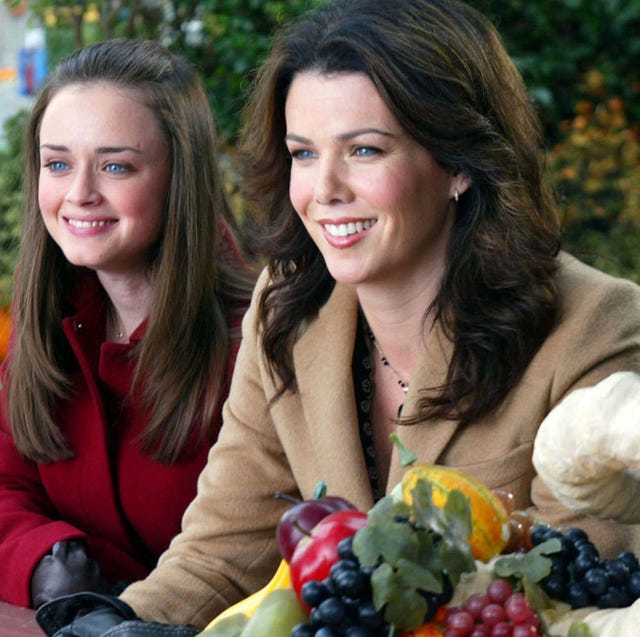 Warner Bros. Television
If you are itching to get out and travel but can't because, well, you know, there's, um…a pandemic going on(!!!), I've got some good news for ya: You can see the country without ever leaving the comfort of your couch—thanks to these popular TV shows. If you want to head to Connecticut to see the leaves change colors, snag the remote and stream Gilmore Girls and voilá, instant fall foliage. If you want to visit Florida, skip Disney and the beach and head straight to Miami to hang out for some cheesecake and girl talk with Rose, Blanche, Dorothy and Sophia.
Where else can you go on your televised tour of the United States? We've figured out the most popular show that takes place in each state (using science—i.e., ratings, IMDB rankings, longevity, and fan love) for your road, er, couch trip. Warning, tho: while some states had sooo many shows to choose from, some states were rather poorly represented. Get on that, folks from West Virginia. Browse the gallery to see which show is reppin' your state.
1 of 50
Alabama
Hart of Dixie

This charming show featured a down-on-her-luck city doctor finding her way to a new life and love in a small Southern town. It's quirky and cute and for some reason Wade hates wearing shirts and that's not such a bad thing.
2 of 50
Alaska
Northern Exposure
This CBS series focused on the quirky residents of Cicely, Alaska, and the fish-out-of-water city doctor who was sent to live with these odd locals. Are we sensing a theme?
3 of 50
Arizona
Alice
Kiss My Grits! This '70s sitcom set outside of Phoenix, brought diner waitress Alice and co-workers at Mel's Diner to life.
4 of 50
Arkansas
19 Kids and Counting
This TLC series (formerly 17 Kids and then 18 Kids) focused on the Arkansas-based Duggars and there ever growing family. While this show has ended, Counting On, a series about the next generation of Duggars is currently running on TLC. So there's that.
5 of 50
California
The Big Bang Theory
Bazinga! Despite the amount of TV shows set in California, this nerdy sitcom ruled the airwaves for years (and years and years) until its recent finale.
6 of 50
Colorado
South Park

Set in South Park, Colorado, this animated series has been killing Kenny and pushing buttons for over 20 years.
7 of 50
Connecticut
Gilmore Girls
The mother-daughter dynamic duo at the heart of this show, and the quirky residents of this small town, had everyone wanting to pack up and move to Stars Hollow.
8 of 50
Delaware
The Pretender
One of the only shows set in Delaware, this late '90s series was about a child prodigy raised in a think tank who escaped and used his impostor skills to stay on the run.
9 of 50
Florida
The Golden Girls
The 1980s brought us a lot of Florida fun, in the shape of the flashy Miami Vice and the much-beloved Golden Girls. This iconic foursome has given every woman a fun, sexy, and fabulous retirement to look forward to.
10 of 50
Georgia
The Walking Dead
This zombie series, set outside of Atlanta, may be staggering into its final season, but this show gave us some serious scares, along with the nice eye candy in the form of Daryl Dixon.
11 of 50
Hawaii
Hawaii Five-0
In addition to the insanely catchy theme song, the reboot of this show featured some stunning scenery on Hawaii's big island, and the crime-fighting skills of the Five-0 team.
12 of 50
Idaho
Wayward Pines
Much like Delaware, there aren't a ton of shows set in Idaho (a shame, it is so beautiful there!), but this sci-fi series was set in a fictional Idaho town with some unusual happenings, and the premiere was directed by M.Night Shyamalan.
13 of 50
Illinois
ER

While the current slate of Chicago Shows (Chicago Fire, Med and P.D.) may be serious contenders in a few years, the long-running medical drama (with a young and dreamy George Clooney) remains in the top spot.
14 of 50
Indiana
Stranger Things

When not in the Upside Down, this supernatural Netflix drama is set in Hawkins, Indiana in the mid '80s. The fashion is fun, but its the scares that keep audiences hooked.

15 of 50
Iowa
American Pickers
There aren't a ton of reality shows on this list, but then again, there aren't a ton of shows set in Iowa. This History Channel series focuses on friends Mike and Frank and their ability to find treasure among trash.
16 of 50
Kansas
Smallville
Back before the hundreds of superhero shows hit the airwaves, this WB drama (later CW drama) was set in the rural town of Smallville, Kansas and featured Clark Kent's formative years.
17 of 50
Kentucky
Justified
One of the many crime-fighting dramas on this list, Justified stars Timothy Olyphant as a U.S. Marshal assigned to work in Eastern Kentucky.
18 of 50
Louisiana
NCIS: New Orleans
This spinoff is set in the Big Easy, and stars Scott Bakula investigating military crimes.
19 of 50
Maine
Once Upon a Time
Though Jessica Fletcher and Murder, She Wrote were the most popular Maine export for a long time, this twisted fantasy series that aired on ABC takes the top spot now. Filled with princes and princesses of fairy tales trapped in modern society trapped in the fictional Maine town of Storybrooke.
20 of 50
Maryland
The Wire
There have been a number of shows set in Maryland, and a bunch set in Baltimore, but none more universally acclaimed than The Wire. This gritty series takes a deep look at the crime scene in the town, and features a younger Idris Elba as Stringer Bell.
21 of 50
Massachusetts
Cheers
This top-rated sitcom was set in a bar in Boston where everyone knew your name and starred Ted Danson, Kelsey Grammer, and a young Woody Harrelson.
22 of 50
Michigan
Home Improvement
Before he was the Last Man Standing, or Buzz Lightyear, Tim Allen was best known as Tim the Tool Man Taylor on this long running sitcom set in the Detroit suburbs.
23 of 50
Minnesota
Little House on the Prairie
This family drama, set in Walnut Grove, Minnesota and based on the books of the same name, was mandatory TV for kids growing up in the '70s.
24 of 50
Mississippi
In the Heat of the Night
Technically a sequel to the 1967 movie of the same name, this cop drama from 1988 starred Carl Weathers and Carol O'Connor as cops in a small Mississippi town.
25 of 50
Missouri
Ozark
Set in Missouri's Lake of the Ozarks, this Netflix series stars Jason Bateman as a "normal" suburban dude who gets involved with money laundering for drug dealers.
26 of 50
Montana
Yellowstone
This Paramount Network drama stars Kevin Costner as the patriarch of a family or ranchers in Montana.
27 of 50
Nebraska
The Young Riders
Nebraska isn't cranking out exciting TV shows, but this Western series from 1989 had a young Stephen Baldwin as a Pony Express rider.
28 of 50
Nevada
CSI: Crime Scene Investigation
The Las Vegas-based original CSI launched several spinoffs and topped the ratings for years while it ran.
29 of 50
New Hampshire
Stan Against Evil

This slightly obscure IFC comedy/horror show from 2016 was set in a small New Hampshire town that had been built on the site of witch burnings, so now its up to a modern -day sheriff to fight off the supernatural forces. SpooOoOooky.
30 of 50
New Jersey
The Sopranos
Yeah, sorry, it's not Jersey Shore. The Emmy-winning HBO drama about a mafia family is one of the best ever and features an, um, unforgettable ending.
Advertisement – Continue Reading Below
This content is created and maintained by a third party, and imported onto this page to help users provide their email addresses. You may be able to find more information about this and similar content at piano.io